Travel indeed allows us to become many different versions of ourselves. Solo Travel could definitely be one of the most adventurous, exciting, liberating, and wonderful experiences, and knowing the best Solo Travel Tips make it more memorable. No matter how old we are, it offers us an opportunity for self-growth and boundless freedom. It can also be a daunting experience for those who have never traveled solo before.
Do check the Youtube video made by my author-partner, Nitya Rambhadran (Youtube Channel- Revamp Mind)
There are people like me who do not appreciate solo travel much. If I talk about myself, I find it weird to sit at a restaurant alone or go on a drive all by myself. I have never traveled alone nor have I thought about it. To some people, Travel Anxiety could also be an issue.
But, those who give on solo trips get to do whatever they want. One can interact with people (strangers) if they wish or completely ignore them if they want to enjoy their own company. When we travel alone, we travel on our own special terms, no taking care of someone else's comfort.
We experience new surroundings and interact with people with different mindsets, everything is just unfiltered as it is of our own choice. We do not carry the burden of someone else's preferences or terms. Solo travel gives us a golden opportunity to completely indulge in ourselves and there are many solo trip packages that you can opt for
Obviously, solo traveling has its perils too. Some of them could be safety concerns, loss of belongings, loneliness, etc. We will discuss some of the disadvantages of solo travel in a fresh & separate article. There are certain tips for solo travelers that would surely help them while they plan to go on a trip with themselves.
Also, a little intelligence, preparation, Solo Travel Tips and common sense can save a lot of money. And we would no longer feel that we are in a rough spot.
Why Should Someone Travel Alone?
For those who like it, solo travel leads to an ultimate experience of self-indulgence. One can take a halt & rest whenever they feel like. We can carry things that would help us to pass the time. Moreover, the mistakes are of our own, and hence, there is no one to judge us.
Those who love reading books, can carry a good book and finish reading it while they are on a solo trip. Also, we can always do exactly what we want. Solo travel would make you find yourself all over again.
Top 7 Best
Solo Travel Tips
In this huge world of travel, there are many types of Travelers. There are people like me who love to travel only with friends or family. On the other hand, there are some people who prefer solo travel and spend quality time with themselves.
Sometimes, one might feel hesitant to travel solo as there are a lot of things that they are concerned about. Without a good companion to watch our back, we tend to be more vulnerable to thieves or criminals. But, with the tips that you'll get to read in this article, you might feel better while planning a solo trip.
1. Remember: Safety First
The topmost question that comes to our mind while traveling solo is the safety concern. While it definitely demands attention & caution, it should not stop us from heading off on a trip alone. Picking the right destination is the most important thing.
If we do so, we solve half of our problems as some places are more suitable for solo travel. Different applications could be installed on the phone to stay in touch with the near & dear ones. A well-rated hotel is another thing that could be accomplished to enjoy safe travel.
2. Talk To The Local People
Traveling is all about exploring every possible place. To explore the local markets and other local outlets, it is important to be humble and friendly with the local people. If I talk about India, the localities of every place are quite humble & polite. They are always eager to welcome and help the tourists visiting their city.
These are the people who will constantly guide us on our trip. This way, we won't feel aloof. In fact, interaction with the localities makes our trip even more exciting & happening. In places like Punjab, you will be offered a pure Punjabi meal and some local families could even offer you accommodation.
3. Do Not Carry A Heavy Luggage
One of the most important points to keep in mind while planning a solo trip is to carry a piece of light luggage. This is a valid point especially when someone is traveling in India.
The distances in India are so vast and carrying a heavy suitcase could lead to discomfort and stress. Hence, it is advisable to pack the luggage in such a way that it becomes easier to carry.
4. Have Faith In Yourself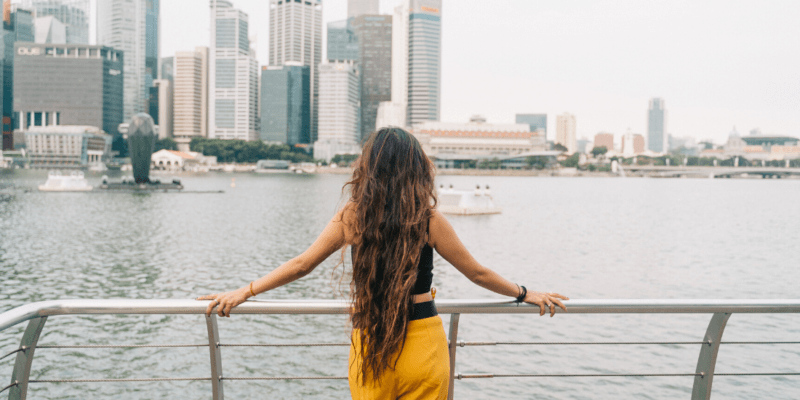 A person like me who is quite social and loves being around people might feel left out at one point. One starts to feel lonely while they are on their solo trip. Social media would not always work.
One might go crazy if they are unable to communicate. Hence, it is important to have faith in yourself. If you feel confident that you are enough for yourself, there's no looking back.
5. Learn The Local Language
Solo travel, especially in India, could be disturbing if you do not know the local language of that city. There are places in India where the localities do not understand any other language other than their own dialect. They don't even speak the National Language of India, i.e. Hindi. Hence, it becomes difficult to interact with the local people.
Also, it is quite a difficult task to comprehend the meaning of many phrases. Hence, it is necessary that the traveler at least understands a few words of the local language. So, one should head to a place where you speak the local language.
6. Carry A Book
'Books are man's best friends', we have heard this phrase from our childhood days. Have you ever thought about this phrase in deep? There is no better friend than a book, I really believe in this phrase. I am a constant reader and I love reading books.
Whenever I go somewhere, I carry a book and read it when I am on the way to my destination. When traveling alone, people at times need a trusting friend like a book who would always accompany them. Especially if we are stuck in the same place for a long period of time, we can always read a book and enjoy its company.
7. Enjoy Your Own Company
Solo Travel in itself means traveling with yourself. There is no better company than the company of one's own self. If you feel that you would start feeling depressed, plan a short trip. But do not forget to enjoy your company of yourself. This way, you would learn to love & enjoy your own company.
Extroverted people can always take a step ahead and make new friends while they are on their trip. Click a lot of pictures and be your own photographer. There are many other people who travel solo, be friends with them and you would cherish that friendship at every moment.
Conclusion
Solo Travel could be exciting and damaging too. It just depends on the way you take it. Especially, the women have to be extra careful when they plan to travel alone and they must know the best Solo Travel Tips to make a hassle-free journey. From hotel bookings to the local markets to the return flight/train tickets, everything has to be taken care of.
One has to be double sure and stay attentive all the time. If planned and executed properly, Solo Travel could lead you to another world altogether. People who love adventure and have never been on a solo trip should definitely try it once. What could be more exciting and adventurous than going on a trip with yourself? So, pack your bags and get, set, go!