It's always said that "Happiness is Homemade" and well homemade is healthy. For homemade to be healthy, what we eat should be full of nutrients and vitamins. Sprouts are one of the most natural edible products and Nutrient Rich Food available to pump a huge amount of nutrients into our body. And the best part is, that sprouts are great germinating seeds and can be easily prepared at home (Explained below: how to prepare sprouts at home).
The importance of Sprouts and consuming them can be voiced out loudly and are really essential to know. They are homemade, cheap, easily available, and healthy. We often call sprouts the mother of nutrients. These are high phosphorus and magnesium rich foods. They are the best vegetarian food high in protein and their protein value increases after sprouting. In this blog, we shall talk about the ways to prepare and eat them. So go on and prepare at your home and add Sprouts to your food to make a balanced diet.
What are Sprouts: Nutrient-Rich Food?
Put in a simple language, sprouts are germinating seeds. Sprouts are the best nutritional rich food that is rich in vitamins and minerals. There are many benefits of eating sprouts and should be a regular part of your diet. You can take the Sprouts in your breakfast, during lunch, or in the evening snacks. You can eat it after making the sprouts of different seeds like Green Mung, Bengal gram, fenugreek, broccoli seeds, Black-eyed beans, chickpeas, and sunflower seeds.
Easy to prepare and digest, they are one of the healthiest food in the world. We can have them raw or cooked lightly. Sprouts are low-calorie foods and can be an excellent diet for weight loss.
Also read about 5 Best Indian Superfoods – Uses and Benefits
How to prepare sprouts at home?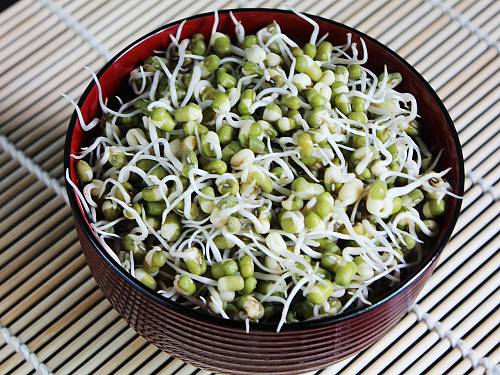 Sprouts: Nutrient-Rich Food is quite easy to prepare and can be done at home. I usually prepare sprouts and store them for 2-3 days in the refrigerator. To prepare sprouts at home, all you need is water, cloth or Jars/boxes (plastic or glass), raw seeds, and bowls.
Let's see the easy process on How to Prepare Sprouts at Home?
Steps to Prepare Sprouts at Home – A Balanced Diet Food
Take a handful of seeds. I usually use Green Moong, Bengal gram, and black-eyed beans or cowpea. These are easily available in any Kirana shop or supermarkets nearby. Sprouts come in packets or you can buy them loosely.
Tips: Nutrient Rich Food, Sprouts
One can leave this vegetarian food high in protein for 2-3 days, for the roots to grow. Longer the sprouts food roots, the better the vitamin content, and ease of digestion. However, you can start eating from the day you see roots and you can store the rest to grow.
Placing germinating seeds in different cloths will help segregate them easily and if any of the seeds are spoiled in one, others can be spared easily.
In summer, place the seeds in the fridge once they start to germinate, if not, they can end up with dried roots.
Also Read: Why Is Healthy Eating Habit So Important? – Multi Niche Blog (revampmind.com)
How to Eat Sprouts?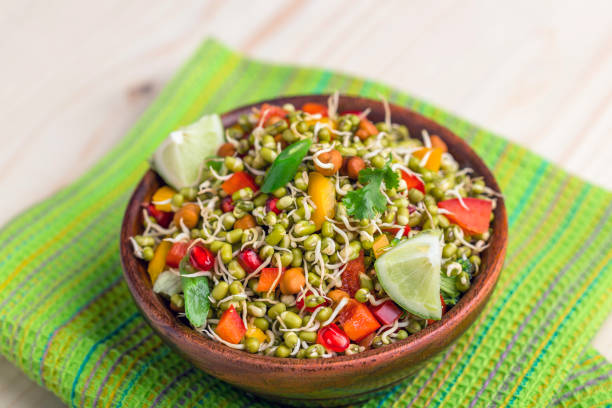 Take small amounts of all the sprouting seeds, add cut onions, tomatoes, a dash of lemon, and a pinch of salt. You can add half a tablespoon of chilli powder or chaat masala. It tastes tangy and spicy as per your need. If you are a fan of peanuts, add fried peanuts – for biotin and a bit of crunchiness.
Important For You: Why Is Healthy Eating Habit So Important?
Benefits of Eating Sprouts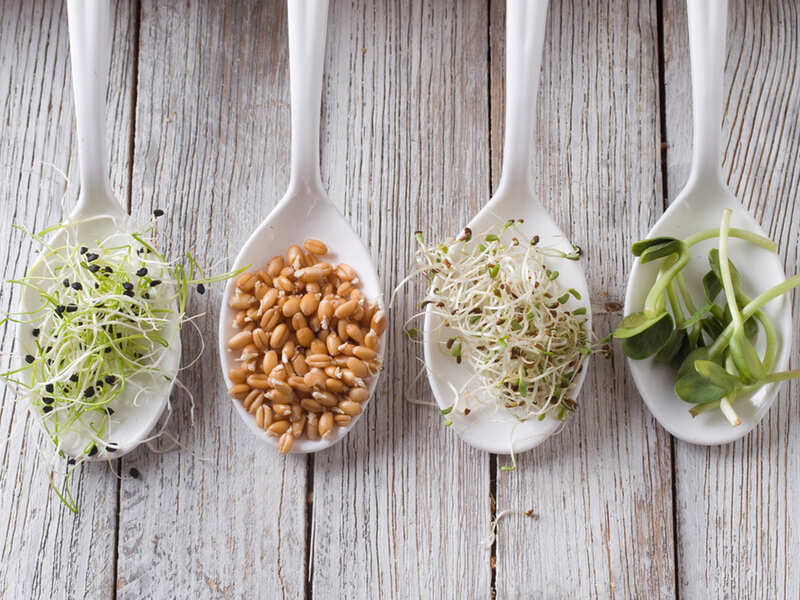 Sprouts are a balanced diet food, which contains fibres, which help in speeding up the metabolic processes in the body and improve digestion.
Sprouts are highly nutritious. They are the best foods that contain magnesium. The process of sprouting increases the nutrient content. When compared to yet-to-be-sprouted seeds, Sprouts contain more manganese, magnesium, phosphorus, and vitamins C and K.
Nutrient Rich Food Sprouts being rich in Vitamin C and K, help in the growth of longer and stronger hair. Sprouts food rich in protein keeps the hair in condition. They act as anti-greying agents, help in reducing brittleness and dryness in hair, and make hair more lustrous.
Sprouts, eaten every day can keep you with a healthy and happy heart and as said before, it is one of the best vegetarian food high in protein. The omega 3 fatty acids will help to reduce cholesterol and keep it at a distance. The vitamins in sprouts help in reducing blood pressure levels and maintain the cardiovascular health of the heart.
With Vitamin C in them, sprouts help in getting clear skin. Sprouts decrease inflammation and reduce skin problems.
Vitamin K in sprouts can help in bone strength and growth.
You might like Why Is Healthy Eating Habit So Important?
Conclusion: Sprouts Health Benefits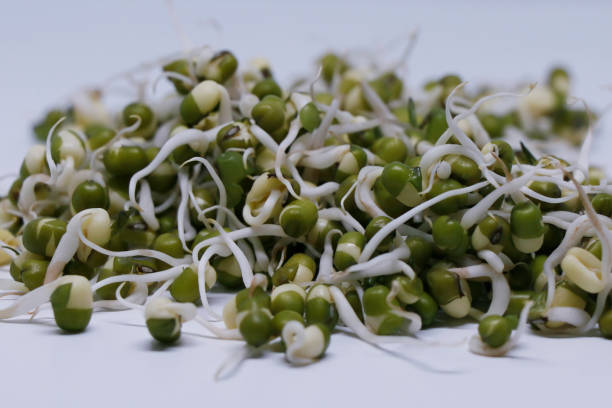 Well, eaten every day, sprouts keep you healthy and maintain your health as it comes on the list of calcium-rich foods. Sprouts are known as the nutrition powerhouse and you can also add them to your balanced diet plan.
This Nutrient Rich Food has high advantages compared to other vegetables we eat every day. Sprouts food can be Incorporated in breakfast, in soups, salads, with an omelette, with lunch, and literally too easy to include in our meals. Not just easy to make (we have listed the steps above on how to prepare sprouts at home), Sprouts help in keeping our skin, hair, heart-healthy, and maintain a great lifestyle along with a healthy diet food!