"Navratri" or "Navaratri", is an asynchrony of 2 words – "Nava" (nine) and "Ratri" (night). In short, it signifies a festival of nine nights wherein each night has its own significance. Navratri celebration spreads over 9 nights & 10 days. It is said to be the most revered festival in Hinduism.
The autumn season celebrates this festival with all the joy. During these days, people worship Goddess Durga or Shakti, which represents the energy of the universe, in her nine different avatars (forms). This festival comes with a lot of positivity and emotions.
Maha Navratri or Sharad Navratri is considered the most auspicious one. According to the Hindu calendar, Navratri is celebrated in the month of Ashvin, which typically falls in September/October. According to the Gregorian calendar, this year, Navratri will be observed from October 17 to October 24; while October 25 will be celebrated as Dussehra.
Importance & Significance of Navratri Celebration
When it comes to the importance, Navratri holds importance like every other Indian festival. The core message is the victory of good over evil; while the stories and the narratives differ from the other festivals. The eastern and northeastern states of India refer to these celebrations as Durga Puja.
On the other hand, northern and western India celebrate the nine-night festival as an observation to celebrate the victory of Lord Rama over evil Ravana. On the first day of the festival, Mahalaya begins by remembering Goddess Durga. It marks the end of the period of Shraadh or Pitri-Paksha. We worship the strong Durga Maa and other Goddesses to maintain our physical and mental balance. We also remember our ancestors during these days.
Following are the points of importance of Navratri Celebration:
Goddess Durga exists in numerous innocent and ferocious manifestations.
Navratri signifies utter devotion and respect towards Goddess. People celebrate it with full devotion and enthusiasm.
It is believed that Durga Mata defeated the demon- Mahishasura. This victory is celebrated by lightening up the houses and temples.
In North India, the 9-day festival Chaitra Navratri celebrates the victory of Lord Rama over Ravana. During the festival, people dress up in traditional clothing, offer prayers, and observe fasts.
As it is one of the most celebrated and distinguished religious occurrences for the Hindus, Navratri has become the most reverenced holy occasion.
Navratri Ke Navrang (Nine Colors of the Nine Days)
The festival of Navratri signifies colors for all nine days. different Many devotees of Goddess Durga take these colors pretty seriously and wear clothes accordingly. People believe that doing so brings prosperity, blessings, and good luck. So if you want to follow it too, let us take you through the 9 colors for each day.
Day 1: Orange
1st day of Navratri– The festival commences with a bright and vibrant orange color. This color signifies a lot of energy and happiness. On this day, Hindus worship Goddess Shailputri.
Day 2: White
2nd day of navratri signifies the White color wherein people worship Goddess Brahmacharini. The white color brings peace and prosperity to everybody's lives.
Day 3: Red
3rd day of navratri signifies the red color. The red color signifies beauty and fearlessness. Hindus worship Goddess Chandraghanta on the 3rd day. This color brings fearlessness and vibrance to the festival.
Day 4: Royal Blue
4th day of navratri- Royal Blue is the color of the 4th day. As the name suggests, this color signifies royalty, good health, and good wealth. Hindus worship Goddess Kushmanda on this auspicious day.
Day 5: Yellow
Yellow is the color for the 5th day of Navratri. People wear yellow and enjoy that prosperous feeling. Yellow color signifies happiness, prosperity, joy, and brightness. Hindus worship Goddess Skandamata on this day.
Day 6: Green
The color of the sixth day is Green. It signifies new beginnings and a lot of growth. Green color brings a lot of good luck along. Hindus worship Goddess Katyayani on the 6th day.
Day 7: Grey
Day 7 (Saptami) of navratri signifies grey color. Grey stands for the amazing strength of transforming. It also signifies dedication and a strong fighting spirit. Hindus worship Goddess Kalaratri on this day.
Day 8: Purple
Day 8 (Ashtami) signifies the Purple color. Most Hindu families perform Kanjaks on this day. People worship 7 little unmarried girls and feed them the Ashtami prasad (chole poori and halwa). The purple color signifies power, ambition, and peace. People worship Goddess Mahagauri on this day.
Day 9: Peacock Green
This is the last day or the 9th day of Navratri festival and signifies a peacock green color. Navami, this is what we call this day. Hindus worship Goddess Siddhidhatri on this day. The peacock green color denotes the fulfilment of all the desires of the devotees.
Navratri Celebration – Dandiya
Navratri celebration not just symbolizes the victory of good over evil but also celebrates the spirit of Indian culture and togetherness. Devotees celebrate the festival by offering prayers to the Goddess but also indulge in Garba and Dandiya. They also wear traditional and colorful dresses and sing folk songs. Dandiya is played in the late evening, after the religious rituals (Aarti).
On the other hand, Garba is performed before worshipping Goddess Durga. Large groups of people perform these dances. Hundreds of people come together to celebrate this festival in special large-scale Dandiya Events. Garba & Dandiya are the dance forms that were earlier performed only in Gujarat, but now these have become popular across the country. During Navratri days, Garba dance ceremonies are organized in almost every corner of the country.
The 10 Evils of Life
The source of energy we get from 9 days of worship helps us get rid of 10 evils of life. Evils like ego, anger, greed, sorrow, jealousy, etc. should be killed as they are negative. These auspicious days tend to eliminate those energies and bring positivity all over. The 10 days (including Vijaya Dasami) refers to the 10 evils of life.
1) Kama (Lust): A sensuous appetite regarded as sinful.
2) Krodh (Anger): It is a strong feeling of annoyance & displeasure.
3) Lobh (Greed): A selfish desire for something.
4) Moh (Attachment): Affection or sympathy for someone or something.
5) Ahankar (Ego): Ego (Ahankar) is a sense of self-importance.
6) Darr (Fear): A frightening feeling of dread and reverence.
7) Irsha (Jealousy): A state or feeling of being jealous of something.
8) Jadta (Inertia): A tendency to remain unchanged or to do nothing.
9) Nafrat (hatred): An intense feeling of dislike, hatred, and abuse.
10) Paschataap (Guilt): A realization of specified wrongdoing.
Conclusion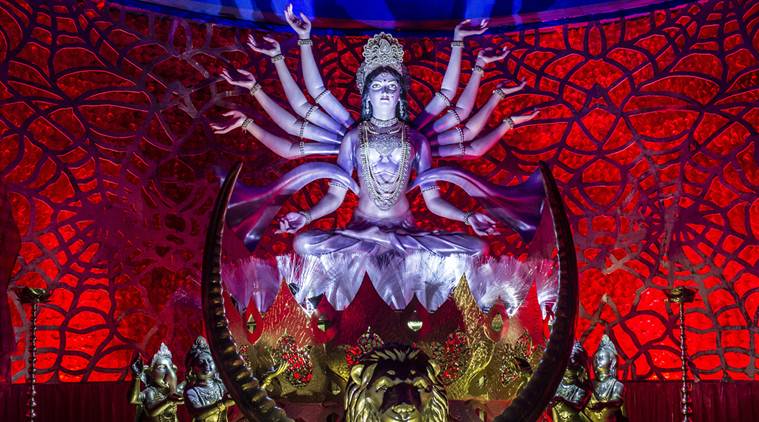 It is believed that Goddess Durga destroys the ten evils for the worshipers. She always stays with those who have faith in her. To please the Durga Mata and get her immense blessings, one should observe fasts for 9 divine days. Every day, we should take a pledge to destroy one evil from the inside. On the tenth day, we celebrate Vijaya Dasami (Dusshera), i.e. a victory over all the negativity.
The time during which the Navratri celebration prevails is the period when nature undergoes a huge climate change. This also brings in unwanted diseases & sufferings. This change affects humans in many ways. hence, we should take very good care of ourselves and keep on worshipping the Durga maa and seek their blessings.
Jai Mata Di!