Sleeping Pattern

– Things To Do Before Going To Bed
We all know the importance of good sleep. In this article, we talk about 7 things to do before going to bed.
Even though a good night's sleep is extremely important, a good nighttime routine has become a point of concern for many people these days. Many of us struggle to get quality sleep at night and there could be many reasons for it. But, we all know the importance of a good night's sleep and keep on working towards the same. In one of the previous articles of mine (Things You Shouldn't Do Before Going To Bed), I had penned down the habits that should be avoided before going to bed. So, today let's discuss what do you do before going to sleep. In times of workload, stress, depression, anxiety, etc., it becomes difficult to manage a quality good night's sleep. Insomnia or Hypersomnia makes it even more difficult. Hence, it is important to quit the habits that cause a disturbance in sleep. Similarly, to add more quality to the sleeping pattern, good practices should be adopted.
So, what do you like to do before you go to sleep? Some of you would say, surf the internet, watch TV, work on the laptop, etc.
If you ask me, I have a few things to do before going to bed that I don't skip. I make sure that I read a good book before I go to sleep. It has now become a habit for me and I never skip doing this. When I go to sleep after reading a book, I tend to have a much better quality of sleep as compared to the other days. Also, I always avoid heavy meals at dinner. This makes me feel lighter and it becomes easier to digest the food. Few of my friends keep on working till the last minute of going to bed. Let me tell you, this is a very and habit! This should never be done as our mind takes time to get relaxed.
Let us now read about 7 things to do before you go to bed.
Stay Away From Digital Gadgets
This point should be on your priority of things to do before going to bed list.
As I had explained in the previous article, using digital gadgets before going to sleep could hamper our sleeping pattern. Bluelight exposure during bedtime is not good for our eyes as well as our minds. Blue light means the light/rays that are Hence, we should avoid using such gadgets while we are about to go to bed. Using gadgets like laptops, computers, playing video games, watching TV, etc. leads to a disturbed sleep as our mind keeps on revolving around those things. Ultimately, we are unable to get a night of quality sleep and hence we feel lazy even in the mornings.
Set An Alarm To Start A Fresh Morning
A stressful morning is never worth an extra 10 minutes of sleep. No matter how tempting it might be to set your alarm a bit later or hit snooze when you wake up, you are only doing yourself a disservice. Waking up feeling scrambled is a terrible way to start the day. Plus, it can lead you to forget something or be late. Instead, wake up with enough time to do what you need in the morning without stress. It will kick your days off much better and lead to higher energy levels.
Try Going To The Bed At The Same Time Every Night
No good practice is good enough until you practice to go to bed at the same time daily. When the body gets habitual of sleeping at the same time daily, we'll find ourselves in a better situation. We start sleeping better and sleeping peacefully would be a piece of cake for us. This would lead us to not waking up in the middle of the night, not experiencing insomnia, and no tossing & turning. We should try to go to bed at the same daily, let's say at 11PM. Now, there is no hard & fast rule for this. It doesn't have to be that exact. Its just that we should try practicing it daily. A few minutes or delay can work, ofcourse!
Do Meditation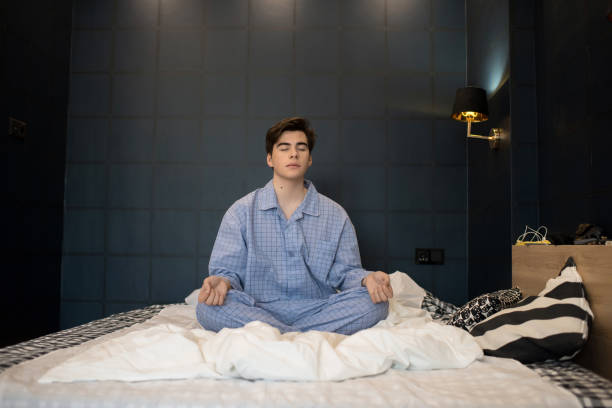 Something that must be there in our daily routine is to meditate more. If we meditate a few minutes before we go to sleep, it actually does wonders. It actually feels good when we meditate in bed with our favorite ambient music playing nearby without any extraneous noise. The best thing about meditation is that it calms us down immediately & gives us a better sleep at night. It has the power to eliminate negativity in all aspects of life that results in a good sleeping pattern. It might seem difficult initially, but if start doing it on a regular basis, it will become a part of your routine.
Read A Book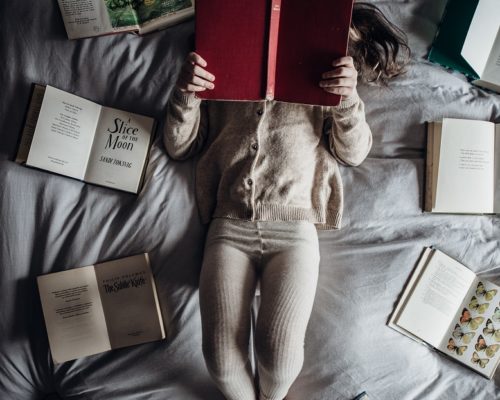 Reading is the best way of calming your mind down. This is one practice that I never skip doing. I make sure that I read a book before I fall asleep. This brings peace to my mind that leads to an amazing sleep. Reading makes us sleep more peacefully. You can pick up any good novel or a poetry book to read in bed. Avoid reading gossip magazines or tabloids. Say a big NO to e-books as they would reflect blue light which again causes a disturbed sleeping pattern. I always feel relaxed when I go to sleep after reading a book.
Recommended To You:
IMPORTANCE OF READING BOOKS
LESSONS TO LEARN FROM 'THE MONK WHO SOLD HIS FERRARI' – INSPIRATIONAL STORY
THE 5 BEST NON-FICTION BOOKS – MUST READ
Use Washroom Just Before Bed
Waking up from a deep sleep in a need to pee is so irritating and awful. It interrupts our sleep cycle and we might end up experiencing sleepless nights. Too much intake of liquid just before going to bed is not advisable. This is because the liquid intake creates a need to use the washroom quite often. To avoid waking up in the middle of sleep, it is good to use the washroom just before you slip into your bed.
Plan Your Upcoming Day
It is always a good habit to plan the next day before you sleep. So, we should try spending a few minutes going through the next day's calendar. You can make a list of important/unimportant things you have to do the next day, prioritizing the important tasks. These could include writing a report, scheduling a meeting, attending a seminar, etc. Also, a list of household activities to be done can also be penned down in another list. These activities could include a healthy walk, wardrobe cleaning, washing the clothes, etc. Writing down the things you want to achieve each day is also a very good idea. By doing this, you'll definitely wake up fresh in the morning and you would know exactly want to do the next day.
Conclusion
Different people have their own ways to deal with pre-bedtime. There are different techniques and combinations until you find the best one for yourself. The most important thing is to be gentle with yourself and get involved in self-care activities to the fullest. Some good conversations with your partner or other loved ones can also do wonders. Remember, focus more on relaxing rather than focusing on other things.
What do you do before going to sleep? Let us know in the comments.