The world is filled with people with different skills, capabilities, and interests. There are many unique career options in India. But, in the rat race of the corporate ladder, many of us forget what makes us unique. Digitalization has given birth to many new creative and unique career opportunities apart from regular professions like doctors, engineers, lawyers, etc.
Nowadays, there are some best career options available in India. Chose them wisely and make a successful career for yourself. In this article, we are going to talk about 18 unique career options available in India.
How Would You Define The Word – Profession?
A profession not only improves employability and career longevity but can also provide empowerment. It gives us the strength to stand in front of this cruel world. My author friend Nitya Rambhadran made a video about some unique career options in India. Watch it here!
What are the benefits of being a Professional?
Maybe we have never thought of it, but there are a lot of benefits to being a professional. Let us discuss a few of them:
You explore various possibilities for your growth which enables you as an individual as well as a professional.
Knowingly or unknowingly, you may become a part of something big, and contribute to the betterment of society in a massive way.
Being professional may help you to become a better explorer as you get to meet and interact with different professionals and people from different countries, nationalities, cultures, and backgrounds.
You witness all sorts of behavior, i.e. both pleasant & unpleasant and the best part is, you get to learn many things from such experiences and become a better human being.
You face various challenges and can discover your inner strength.
Since you have learned a lot about your profession and hold a good experience, you can be a good guide to other budding and emerging professionals.
Apart from these, there are many other benefits you may experience in the span of your professional life.
In today's corporate world, being a professional means being competent in the work and taking a full-fledged responsibility for the outcomes. This actually means working with your hands and mind.
Working hard and not showing off is the actual identity of a Professional. In today's time, it's imperative to be a combination of a hard and smart worker. One should take pride and responsibility for the work they do, be ready to unlearn and relearn and also keep an eye on their dreams. Students start searching for the best courses after 12th even before giving the 12th examination.
Considering the present scenario, each profession is equally important and necessary in its own way. There is a buffet of unique career options in India with different facets- unimaginable, multi-sided, or simply different.
Unfortunately, the truth is, that many people are unaware of their liking. They end up in some other profession only to discover their true calling much later. But that does not mean that he/she has betrayed the dream. It can always be done as a side hassle. There are plenty of professions in the world. All you need is a little self-introspection.
If I talk about myself, I did my MBA (HR) from the renowned Institute of Management Technology (IMT) and have been working as a Human Resource Professional for around 4 years.
I always had an interest in the HR domain so ended up in this field. I was extremely happy in my profession and one fine day I discovered my passion for writing. Hence, I decided to try my hands at it. At that time, REVAMP MIND was in the early stages so I joined hands with my dear friend Nitya. She is like an elder sister to me and has constantly motivated me to write.
Do you feel that people take advantage of you because you like helping others and can't say "No"? But this leaves you with lots of stress, tiredness, irritability and no time for yourself.
If you want to stop this along with many other habits that hold you back, then read our ebook- Toxic people: Learn to identify & handle them & rediscover yourself. Click on the link below to buy the ebook.
https://revampmind.com/shop/ (For India Purchase)
https://payhip.com/b/1MTnL (For Worldwide Purchase)
Then, I wrote my very first article/blog, "Loving Relationship between Brother and Sister: A Sweet Story". It gained a lot of love and popularity and has more than 17000 views (as of 21st Mar '22). So this way, I am following my professional dream as well as my passion.
Sadly, many young people choose a profession based on salaries, parents, or peer pressure instead of doing what they love to do. The choice of a profession is a very responsible and complex step of our lives as the whole life revolves around it. So, it should be a well thought off decision.
You can consult a career counselor who might be able to assist you to take the right step.
You Must Know: The Rate of Unemployment During Lockdown in India & Job Tips | Revamp Mind
Though there are numerous career options to choose from and it's literally not possible to talk about each one of them in one article. So, for now, let's discuss a few unique professions which are not commonly accepted in our society.
1. Disc Jockey (DJ):
Follow DJ Ankyy on Instagram- dj_ankyy
A Disc Jockey (DJ) is a person who hosts and plays the recorded music for the audience. They generally mix n match the recorded music in their own innovative and creative ways and play it in clubs, parties, weddings, ceremonies, etc. These people are often seen interacting with the audience using a Microphone (Amazon affiliate link). They set up the party mood through their peppy music.
2. Radio Jockey (RJ):
The job of a Radio Jockey (RJ) is very diversified in nature. RJ is a person who hosts a talk show over the radio. We can say that RJ is the 'sutradhaar' of a particular assigned show on the radio. She/he interacts with the listeners while playing songs and also gives the latest updates around the globe.
3. Tattoo Artist:
This is one of the emerging professions of today's time and people love to get inked. This profession does not revolve around a 9 to the 5-time table. Tattooing is one of the most ancient art forms known. It is the art of creating images, symbols, or words on the skin.
Tattoos (Amazon affiliate link) can be either temporary or permanent. This art is performed by piercing the skin with a tiny needle, through which the artist injects the ink into the person's skin.
4. Animator/Cartoonist:
An Animator is a person who creates Frames (multiple images) in order to generate the animation due to which the image appears to be in movement. One can study this art and obtain a bachelor's degree in computer animation (Amazon affiliate link)/fine arts/graphic designing. Once done, he/she can work as an Animator with a video game (Amazon affiliate link) manufacturer, a web-based animation company, an advertising firm, or any other graphics company.
5. Art Auctioneer:
An Art Auctioneer is a person who conducts evaluations and assessments on various art pieces. This activity includes determining the age, quality, condition, and origin of a particular art piece in order to set a price value. They work very closely with the art buyers and art sellers. They conduct the auction events at the auction houses, galleries, etc.
6. Sculpturist/Potter/Glassblower:
These people work in various mediums and also employ various techniques while using a wide range of materials in order to create original art. They utilize their talent and create art to sell. These artists specialize in a particular type of art such as sculpting, textiles, glassblowing, and pottery (Amazon affiliate link). One can take various classes or work as an apprentice.
A Bachelor's Degree followed by a Master's Degree in specialized art is what is required. As an example, we can see Satinder Sartaj (an iconic Punjabi Sufi singer) playing a Scuplturist, Nihaal Singh in the latest Punjabi movie Ikko Mikke.
7. Police Sketch Artist:
This person works in the Forensic Department and is also known as a Composite Artist. Their job profile requires them to meet and interview the witnesses to crimes as well as the victims. They try to understand the criminal's physical appearance which is later used in preparing the sketch accordingly. The police force uses these sketches to catch/apprehend the criminals.
The artist may also create sketches of the missing person to trace them months or even years after their disappearance. One can work with the police department on a full-time or freelance basis. An Associate/bachelor's degree in Forensic Art or graphic art/design is required to pursue this career.
8. Agricultural Food Scientist:
An Agricultural Food Scientist analyzes the methods of crop production and farming practices. The studies and analysis help in heightening the crop yield and improving food quality.
9. Forester:
A Forester engages himself in a wide variety of duties which mainly include the conservation and management of Forests. They perform various activities like harvesting timber, enforcing laws that pertain to forestry, to oversee the activities taking place in the forests among others.
10. Geophysicist:
A Geophysicist studies the Geology of Earth with the help of a variety of scientific methods. They further use that information to find precious materials and to evaluate environmental hazards. This is a responsible yet amazing career option.
11. Zoologist:
You need to be an animal lover to study this subject. This person studies everything about the animals, i.e. their growth, development, and behavior. They also study animal diseases & about the species and how they interact with each other.
12. Copywriter:
A person with a deep interest in crisp, creative writing can be a Copywriter. This person's job entails writing sharp, effective slogans/quotes and copy for promotional, marketing, and most importantly sales purpose.
13. Wedding Planner:
Do you want to make your wedding day the most beautiful day of your life? Contact Shubh Vivah on ankit.shubhvivahh@gmail.com. Wedding planners are like a godsend in marriages. They ease out the headache of family members by managing all the wedding events.
They plan the whole wedding and other related ceremonies according to the ideas that are trendy and budget-friendly at the same time. They do all the possible things which are required to make the wedding day even more special. From the venue selection to flower arrangements to catering, they look after everything.
14. Makeup Artist:
Makeup Artists are schooled in Cosmetology and they work in various industries such as Film Industry, Fashion Industry, Cosmetic Services, or the Entertainment field. They make people look more attractive and camera-ready by applying the right kind of makeup. These artists are also called for photography sessions, fashion shows, or public performances.
15. Public Relations Specialist:
The job of a Public Relations Specialist is to develop and maintain a positive public image for the organization or an individual they work for. They generally work from a Public Relations Agency or a Corporate Relations firm. They may also work for a Non-Profit Organization (NPO).
16. Fitness Trainer:
These days, the majority of people are health conscious and fitness freaks. They go to the gym and sweat the excessive fat out. A Fitness Trainer teaches people the right exercise techniques to improve their immunity and strength. One can be a Group Trainer or Personal Trainer.
17. Urban Planner:
An Urban Planner develops a plan for the land in use in urban areas. His/her goal is to make the best possible use of the land resources based on the areas and requirements of a particular community. They make the place look even more beautiful. This is yet another unique career option that is available in India. If you love designing and structuring, you can opt for this career line.
18. Chef: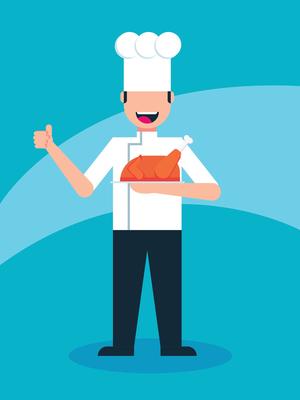 A Chef is a professional cook who manages the whole kitchen in a restaurant, hotel, or similar facilities. There are Executive Chefs and Head Chefs at a workplace wherein the Head Chef takes charge of the kitchen.
As mentioned previously, discussing all professions in just one blog post is not possible. We will definitely get back with another article to share more career options. So, decide what you want to do and in which profession you want to be. Choose your education accordingly, identify yourself, and select the right path for yourself.
Conclusion
There are ample other opportunities other than the ones I have mentioned. It just takes the right focus and the rightest choice. The unique career options in India are a weapon to a successful career. Did you find this informative? Share your views in the comment section below.